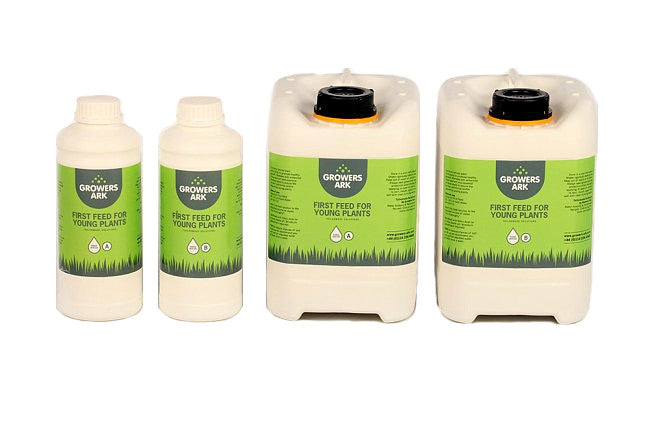 First Feed 2 Part A&B
Regular price £13.00 Sale
Growers Ark First Feed is a plant food specially formulated for young plants. It is suitable for growing on rooted cuttings or established seedlings.
It is formulated from the same high grade salts that we use for all our food but at a concentration and balance that is correct for young plants. First feed contains trace elements at full strength allowing the young plants to develop with no shortages of traces which can happen if using a dilute grow food. First feed also contains a seaweed extract that will provide the young plants with a boost of micronutrients and hormones.
This will allow the plants to establish and start growing quickly and with the minimum of stress.(If the plant is provided with a hormone it does not have to make it, so can respond to it immediately thus growing quickly and with less effort).
First Feed comes in both Hard and Soft water formulations. The hard water formulation contains high grade Nitric acid to neutralize the hardness and reduce the need for pH adjustment, you will need to use less pH down when using our food than with some other companies products. The part A is red coloured for soft water and green for hard water this is because the acid in the hard water formulation changes colour of the chelated Iron in part A.